NorPix MulticastViewer
Real-Time Live View | Multi-Camera and Multi Frame Grabber | Microsoft DirectX 3D
MulticastViewer is an application designed to provide real-time live view from multiple digital video sources. It supports all video sources (cameras, frame grabbers) supported by the Hermes API.
If the video source supports multicasting, multiple instances of the viewer can run simultaneously on different network computers, allowing multiple screens to display the same images from a single source.
MulticastViewer was designed to be as easy to use as possible. Most features are controlled using keyboard shortcuts or basic menu commands.
While the main purpose of MulticastViewer is to display images from multicast GigE camera sources, it can also be used to display any kind of digital video supported by the Hermes API.
Image rendering and display in MulticastViewer make extensive use of Microsoft DirectX 3D libraries. This means that DirectX run-time libraries must be installed on your computer. The current implementation requires a DirectX 9.x compatible graphic adapter or higher.
Full-screen mode means the program occupies the entire desktop, concealing any other applications that may be running. Full-screen mode provides the best image refresh rate and is generally preferred. However, menus are not available in this mode.
Windowed mode shares the desktop with whatever other applications may be running. Since DirectX is then restricted to the window containing MulticastViewer, it cannot take advantage of the maximum possible refresh rate. Note however that since menus are only available in windowed mode, you must return to it to adjust various settings, access Help and so on.
Bayer conversion, for when a video source is delivering raw Bayer images, can be performed using the graphics processing unit (GPU). Two rendering algorithms are available: fast and accurate. Most GPUs can handle both without compromising performance. Accurate mode gives a better image, but is more GPU-demanding.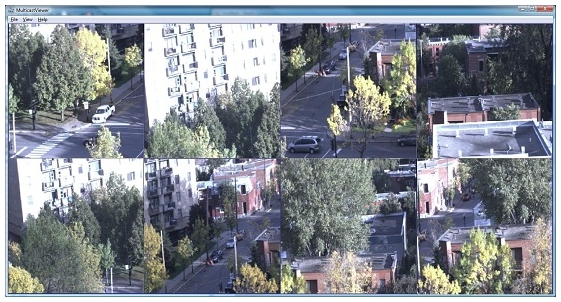 Product Data